Some people find the winter season unfriendly to them; because accessorizing with
trendy
outfit is never an option. However, you can limitlessly wear your trendy clothes when you accessorize with a fur scarf getting that trendy look you can ever imagine. It perfectly keeps warm and stylish with a grip on top of your fashion game.
Below are 10 ways you can use your real fur scarf in a trendy way
1.
You can accessorize with few outfits: The numerous array of designs which real fur scarves exists made it possible to get different style and colors. You don't have to get new outfits always. The usability is endless as it offers flexibility with different trendy style in the fashion world.
2.
You can stylishly tie or lose it: One trendy way you can use your real fur scarves is get it tied or loose around the neck. It gives a unique and grand look and also keeps you warm all through the season.
3.
Fashionably wrap it round the neck: This style gives you a stunning neck-wrap and also prevents cold air from getting into your body.
4.
Accessorize with the exceptional hooded scarf: This is another smart choice which gives fashion enthusiasts the opportunity to beautifully align their fur scarf inside the coat and well wrapping on the neck. It's a wise option that gives double benefits for trendy lovers.
5.
You can accessorize with the pull over scarves: This elegant tabular design remains one seamless accessory that specially gives you a stunning look while keeping your neck warm. It can be used on any preferred winter outfit.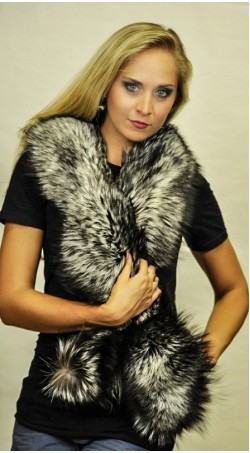 fox fur scarf
6.
Accessorizing with long scarf: The variety of classy styles that long scarves are designed made the use of fur a preferred choice for fashion lovers nowadays. You can wear it around the neck with the ends loosely hanging or wrap it around the neck to create a neck wrap effect. All seductively gives you an outstanding look and keeps you warm no matter the winter condition.
7.
Blending a scarf with your outfit: One simple way to appear gorgeous in winter is blending a scarf with their outfit. Apart from the fact that it beautifully unveils the glamorous look in them; it remains the best option to stay trendy without spending extravagantly since it's in different designs.
8.
You can accessorize your scarf like a necklace: One trendy way fashion lovers use their Amifur real fur scarves is haven it wrapped around the head and making it fall like a necklace. This particular design magnificently portray edifies the beauty in women and keeps the body warm and mild throughout the season.
9.
You can choose to accessorize with a fur coat:
With different style and colors of the fur scarves; there are endless ways you can improvise and accessorize your fur coat and still look trend. Just get one or more that suits your style and enjoy the
also keeps you warm weather condition
.
10.
A two-way purpose: There is no obstruction to the ways trend lovers uses their real fur scarves; it perfectly hung in between your neck also covers the head at a time thereby brings out the classiness in women.