Mink is not the most expensive fur and may not be the most glamorous or striking fur. However, there is a certain quality to mink that makes it the favorite fur of women. Typically, fur is a combination of guard hair and under fur. The guard hair is hair that is visible and forms the top layer and protects the layer underneath. The under fur is the bottom layer that serves the function of insulation. Mink, from the functional aspect, has long guard hair and soft dense under fur. If mink is sheared that it feels delightfully velvety to touch, from the sensory perspective. Its visual appeal likes in its special shade and the soft, delicate, pliable very lustrous long guard hair that gives a particularly sinuous movement and appearance when a woman wearing mink walks along.
There is a sinuous grace and beauty added on to a woman attired in mink.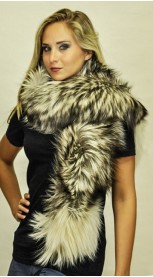 Mink is also fabulously expensive which is why only the richest of the rich can wear and flaunt mink You do not expect to see
ladies working in routine jobs to sport mink fur scarves or mink coats or mink fur hats made of real mink fur, only fox fur at best. Mink fur is available only in small quantities from mink in Scandinavian countries and it requires special care in nurturing the animals and preparation of the fur.
The finest and the best large pieces of mink fur go towards the creation of terribly expensive mink stoles and mink coats for fashionably rich ladies. Since a pelt is irregular in shape there are many off cuts and waste remnants of mink fur left over after preparing super high priced mink coats. These pieces of mink fur are cleverly used by designers and creators of real fur apparel to produce items such as mink fur scarves with million dollar looks and price tags that range around 100 to 20 Euros. You can be a woman of ordinary means but you can look extraordinary attired in a fantastic looking black, beige, brown or colourful mink scarves created from fur remnants. The pieces are stitched together so cleverly no one would notice but what they will definitely notice is how absolutely glamorous you look with the scarf elegantly draped around your neck and shoulders. That you feel warm and snugly comfortable even in the most severe weather is just bonus.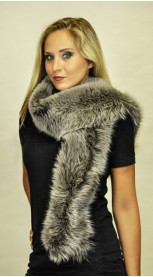 Amifur, based in Italy, the home of stylish fashion apparel, brings
mink fur scarves at affordable prices
, made of genuine mink fur and lined with polyester. Try at least one mink fur scarf and you will know why women love mink: it is because men love women who wear mink fur scarves.